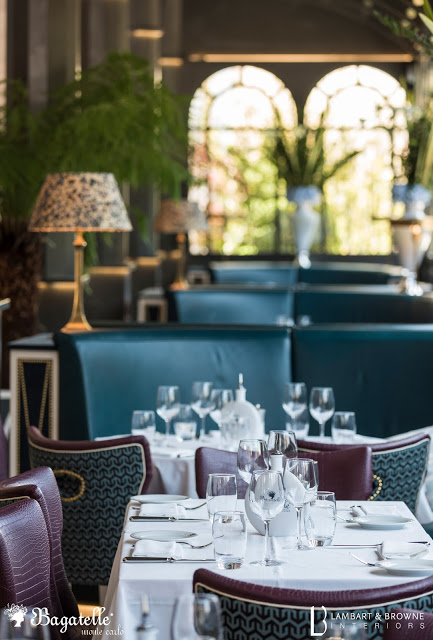 J'aime bien l'idée qu'on puisse m'informer directement de l'ouverture prochaine d'un nouveau « spot » à Monaco et me convier à venir le découvrir en avant première. Même si j'ai la chance de pouvoir tout faire à pied et donc de constater qu'un établissement est en travaux, je ne sais pas toujours quel nouveau nom s'y cache derrière. Alors quand j'ai reçu le mail d'Estelle de Lambart & Browne, le Studio d'architecture d'intérieur londonien, pour m'en dire plus sur le nouveau resto en travaux tout près de la Place du Casino, je n'ai pas loupé l'occasion !
Quand on arrive à Bagatelle, ça impressionne ! On est dedans et dehors à la fois. La déco y est éclectique, intemporelle et élégante … Un luxe raffiné.
A l'intérieur le plafond peint style Belle Epoque donne un air nostalgique. Freddy van Zevenbergen a choisi les matériaux tels que le cuivre et le laiton non laqué afin que le temps fasse sa patine et joue avec les reflets. C'est chaleureux. Il aime mélanger les styles dans ses réalisations. Je vous invite d'ailleurs à les découvrir, c'est ICI. Au mur, sont exposés des tableaux contemporains de la galerie Opera Gallery. Régulièrement, ils laisseront place à d'autres oeuvres ce qui donnera une touche différente au décor.
A l'extérieur, c'est une serre avec de grandes ouvertures, esprit colonial, entourée de plantes, haut de plafond. C'est très lumineux. D'ailleurs, c'est un des spots clés pour venir voir le Grand Prix le week end prochain ! La descente des Spélugues ! Vibrations assurées !
Bagatelle Monte-Carlo c'est une cuisine méditerranéenne avec des produits locaux, bio et un Chef de renom, Rocco Seminara, qui a faits ses classes chez Alain Ducasse. Ce qu'il nous recommande : le Ceviche de homard, avec ses fines tranches de pamplemousse et citron et jus de citron vert et orange, le tout avec une crème d'avocats aux aromates. Bon appétit ! Très prochainement, le restaurant ouvrira le midi et seront proposées  des formules !
Le soir, le diner se poursuit dans une ambiance festive et se transforme en 'night club' au fil de la nuit. Le lieu a été conçu avec différents espaces, certains intimistes, d'autres plus mondains. Ce qui est sûr c'est que le Chef barman, Jérémy Verneveaux a crée une gamme de cocktails spécialement pour Bagatelle Monte-Carlo et c'est la saison idéale pour les déguster !
Tchin !
Plats à partir de 40 euros
BAGATELLE MONTE-CARLO
15, Galerie Charles III
+377. 99.99.09.69
———————————————————
English version
I like the idea that I can be informed directly of a new spot 's imminent opening in Monaco and be invited to come and discover it in preview. Even though I'm lucky enough to be able to do everything on foot and therefore find that an establishment is under construction, I do not always know what name is behind. So when I received Estelle 's mail, marketing manager from from Lambart & Browne, the London's interior design studio, to tell me more about the new restaurant near the Place du Casino, I did not miss the opportunity !
When you arrive at Bagatelle Monte-Carlo it is WOW ! We are at once in and out. The decoration is eclectic, timeless and elegant … A refined luxury.
Inside, the ceiling painted with Belle Epoque style gives a nostalgic look. Freddy van Zevenbergen has chosen materials such as copper and uncoated brass so that time makes its patina and plays with reflections. It's a warm atmosphere. He likes to mix styles in his projects. I invite you to discover them, it is 
HERE
. On the wall, are exhibited contemporary paintings of the gallery
Opera Gallery
. Regularly, they will be replaced by others artists ' works which will give a different touch to the decor.
Outside, it is a greenhouse with large openings, colonial spirit, surrounded by plants, high ceiling. it is very bright. Moreover, it is one of the key spots to come and  see the Grand Prix next week end.
The slope of les Spélugues ! Guaranteed vibrations !
Bagatelle Monte-Carlo is a Mediterranean cuisine, with local and organic products and a renowned Chef, Rocco Seminara, who made his classes at Alain Ducasse. What he recommends : Lobster Ceviche, with its thin slices of grapefruit and lemon, all with a cream of avocado with aromatics herbs. Enjoy your meal ! The restaurant will open for lunch time very soon and will be offering Lunch formulas !
In the evening, the dinner continues in a festive atmosphere and turns into a night club overnight. The place has been designed with different spaces, some intimates, others more socialites. What's on is that Chef Barman, Jeremy Verneveaux has created a range of cocktails specially for Bagatelle Monte-Carlo and it is the ideal time to taste them !
Tchin !