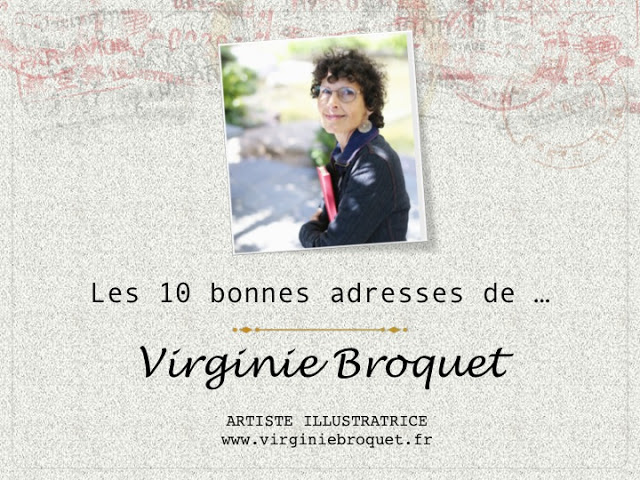 Je crois beaucoup aux rencontres. Elles changent souvent notre regard sur les choses et nous font grandir. C'est justement ce qui s'est passé avec Virginie Broquet. Une artiste qui vit à Nice et qui contribue à mettre en valeur la Principauté depuis de nombreuses années. Vous avez déjà peut-être aperçu ses oeuvres ? Elle a une double page dans le dernier magazine de Monaco Madame !
J'ai du mal à la qualifier parce que Virginie est vraiment douée dans plusieurs domaines ! La peinture, l'écriture, le dessin, la mode. C'est l'illustration qui m'amène aujourd'hui à vous la présenter car son talent est mis à profit pour la Principauté depuis plus de 10 ans. Je me souviens la première fois que j'ai vu une illustration de Virginie c'était sur un foulard, un peu de Soi (de
BE YOU
), signé Virginie Broquet … J'ai tout de suite adoré !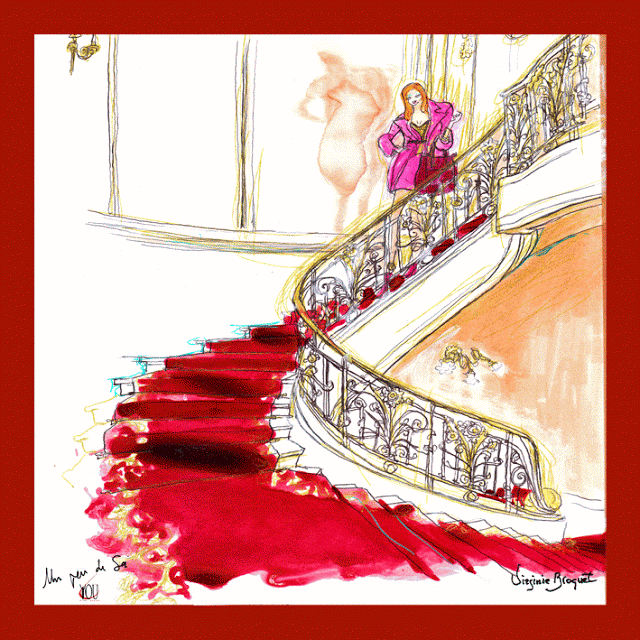 Foulard Be You 'un peu de Soi' signé Virginnie Broquet
Virginie, c'est une artiste depuis l'enfance : déjà petite elle aimait dessiner, créer des robes pour poupées, … Une influence inspirée de ses grands-parents et de son arrière grand-père, Léon, Espérance Broquet qui était artiste de l'Ecole Monet ! C'est donc tout naturellement qu'elle suivit des cours à la Villa Arson à Nice puis à Strasbourg où elle sort diplômée de l'Ecole des Arts Décoratifs. Elle commence sa carrière à Paris où elle expérimente plusieurs secteurs comme la mode, la peinture, la presse et la BD. Elle a notamment travaillé en tant qu'illustratrice pour le styliste Xuly Bet ainsi que pour la créatrice Isabel Marant.
Virginie est pétillante et curieuse ce qui l'a amené à voyager et à croquer un 'Carnet de voyage' des Ambassades de France à travers le monde donnant un aperçu du quotidien d'une ambassade (la résidence, les personnes qui y travaillent, les réceptions, les événements) et du pays qui l'accueille. D'ailleurs, l'Ambassade de France à Monaco organise du 1er au 15 juin prochain une exposition à la Maison de France présentant toutes les oeuvres qu'elle a réalisées dont celles de Monaco. A voir ABSOLUMENT !
En effet, à Monaco, Virginie a croqué, croqué, croqué, croqué ! Pour les Ballets de Monte-Carlo, pour le Grand Prix, pour l'Ambassade… Elle croque également depuis une douzaine d'années les établissements de la SBM comme le Beach Hôtel, l'Hôtel de Paris, le Casino est bien d'autres. Elle a d'ailleurs le projet des « Carnets de Monte-Carlo » qui retracera les différents places et sites monégasques. Quant on voit comment la Principauté se transforme, ces carnets seront une pépite du passé et du nouveau Monaco. A Noël dernier, ce sont ses illustrations que l'on voyait affichées partout : les voeux de la Mairie c'était elle ! Sans compter ses expo à la Galerie Pastor et aux Grimaldi Forum.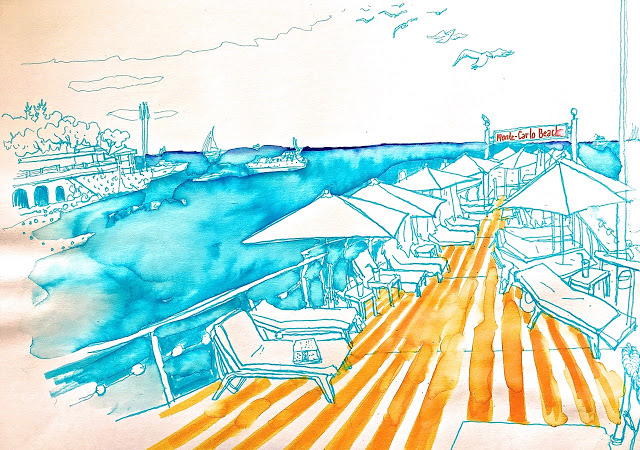 Le Beach signé Virginie Broquet
Sa devise : « rester libre tant que possible ».
Le parcours de Virginie c'est tout ça mais ce n'est pas que ça ! Elle a collaboré avec de nombreux artistes pour de nombreux projets. Ce serait vraiment trop réducteur de vous énumérer toutes ses oeuvres et tous ces futurs projets ( et il y en a plein!!) alors pour en savoir plus c'est
ICI !
Je dois vous dire aussi que j'ai été hyper hyper hyper contente quand elle a accepté d'être l'illustratrice officielle du Blog My Little Monaco ! Elle croquera régulièrement ! On est ravis ! A très vite sur le Blog !
EXPOSITION MAISON DE FRANCE
42, Rue Grimaldi
MONACO
#MERCI#MERCI#MERCI#MERCI#MERCI#MERCI#MERCI#MERCI#MERCI#MERCI#MERCI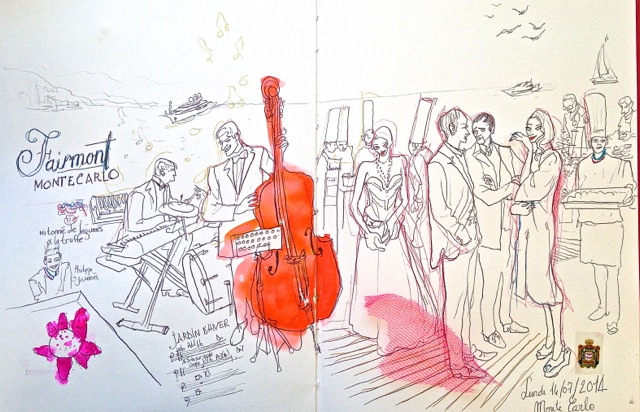 Fairmont signé Virginie Broquet
Où
vas tu quand tu dois organiser à Monaco un déjeuner professionnel? Where do you go when you have to organize a business lunch?
A la Pizzeria Bio du Beach Hôtel où j'ai eu la chance de réaliser 2 grandes fresques murales face à la mer ! A the Beach Hotel Organic Pizzeria where I had the chance to made 2 big frescos in front of the sea !
Quelle
est la déco d'hôtel que tu préfères ? Which 's your favorite interior design hotel ?
L'hermitage où je vais bientôt exposer … Hermitage Hotel where I am going to exhibit very soon…
Où
vas tu prendre un verre avec une amie? Where are you going to have a drink with a friend ?
J'aime beaucoup l'ambiance du Bouddha Bar qui me projette en Asie et dans un autre temps ! I like very much the atmosphere of the Bouddha Bar which take me in Asia and in another time.
L'endroit
à Monaco où tu te sens comme à la maison? What is the place in Monaco where you feel like at home ?
Au Beach Hôtel que je croque depuis une douzaine d'année ! Un vrai Carnet de vies et de nuits à venir … At he beach Hotel where I have been sketching for 12 years ! A Life and night notebook is in progress…
La
vue exceptionnelle de Monaco que tu préfères ? What is the Monaco best view you prefer?
La vue de la résidence de France à Monaco où loge l'ambassadrice pour qui j'ai réalisé la carte de voeux 2016. Une vue plongeante superbe ! The view from the French Ambassador House who I did the 2016 Christmas card for. A splendid plunging view !
L'attraction touristique incontournable
selon toi? The must-do touristic place ?
Le Grand Prix ! J'adore dessiner les voitures et j'avais dessiné le badge du 63ème en 2005 déjà ! The grand prix ! I love drawing cars and I did draw the 63rd badge in 2005.
Un
endroit pour te relaxer ou te faire chouchouter? What is the place where you like to relax ?
Les Thermes marin et ses soins de la mer revigorants. The Thermes marins and its fortifying sea cares.
Quand
tu veux manger bio ? When you want to have an organic lunch or organic dinner ?
Un
événement que tu ne raterais pour rien au monde ? An event that you would not miss for anything at all ?
L'exposition d'été du Forum Grimaldi, une petite pensée pour « Africa Live » qui était fabuleuse ! The Summer Grimaldi Forum exhibitions, thinking about the fabulous 'Africa Live' exhibition !
Une
petite escapade hors de la ville ? A break out of the city ?
Castel Plage à Nice où je vais depuis son ouverture il y a une petite trentaine d'années 🙂 Castel beach in Nice where I go since they opened 30 years ago.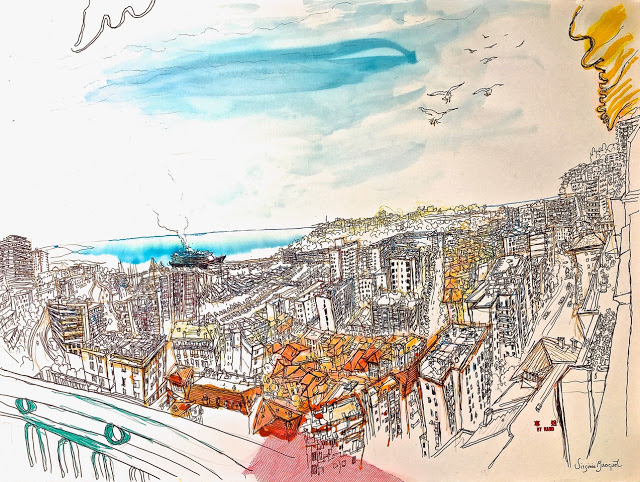 Vue de Monaco chez l'Ambassadrice française signé Virginie Broquet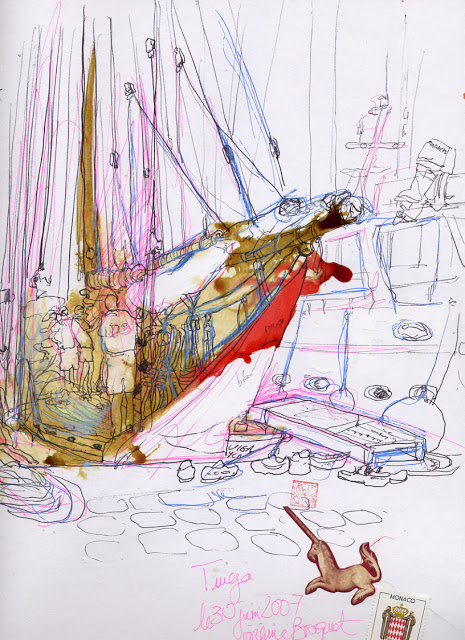 Tuiga signé Virginie Broquet
English version
I believe very much in the happy encounters. They change how we see life and help us to grow up. That's what happened with Virginie Broquet. An artist from Nice who has been contributed to highlight the Principality for many years. Maybe you have already seen her work ? She has two full-pages in the last Monaco Madame magazine.
It is difficult for me to qualify her because she is very good in many fields. Painting, writing, drawing, fashion. Today, I would like to introduce her for her talent in illustration because Monaco has been taken advantage of it since more than 10 years.
I remember the first time I discovered her work, it was on a scarf, un peu de Soi (from
BE YOU
) signed by Virginie Broquet. I immediately loved it !
Virginie is an artist since childhood : young, she loved drawing, creating dresses for dolls … A influence inspired by her grandparents and her great-father, Leon Esperance Broquet who was an Ecole Monet Artist. So she naturally attended courses at the Villa Arson and then in Strasbourg where she graduated from the Ecole des Arts décoratifs. She began her career in Paris where she experimented in several sectors such as fashion, painting, press and comics. She has worked as an illustrator for the designer Xuly Bet and for the designer Isabel Marant.
Virginie is sparkling and curious what led her to travel and to sketch a 'Travel diary' of the French Embassies throughout the world giving an overview of their daily life and the host country. Moreover, the French Embassy in Monaco is organizing Virginie Broquet's exhibition from 1st June to 15th June at the Maison de France showing all her work with them especially in Monaco. A Must-see !
Indeed, Virginie has sketched, sketched, sketched, sketched ! for the Monte-Carlo Ballet, the Grand Prix, The French Embassy…She has been sketching for the last 12 years the SBM's establishments such as the Beach Hotel, the Hotel de Paris, the Casino, … She has also the 'Carnet de Monte-Carlo project' which will tell the various places and sites in Monaco. When we see how fast the Principality is changing, these 'carnets' will be a nugget of the past and the new Monaco.
Her motto :  » stay free as much as possible ».
The Virginie 's history career is all that but it is not only that ! She collaborated with many artist on many projects. It would be too reductive to enumerate all her work and all her future projects (they are plenty). To know more it is
HERE
Also I would like to tell you that I was super, super, super happy when she said « YES » to be the Official Illustrator for the Blog My Little Monaco. She will sketch time to time. We are delighted !
See you on the Blog !