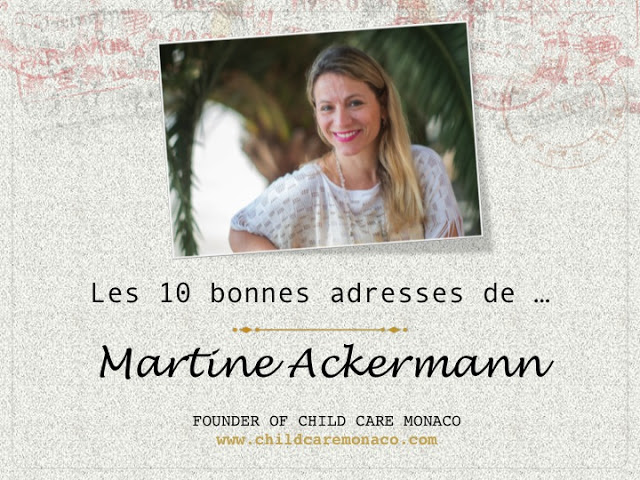 J'ai retrouvé Martine à la terrasse du Starbucks, endroit discret avec une vue sur la mer à couper le souffle. Nous nous sommes connues il y a presque un an dans le cadre de son association, Child Care Monaco et déjà sa personnalité m'avait beaucoup impressionnée.
Martine, signe de feu et de soleil vit à Monaco depuis plus de vingt ans. Elle a grandi à Nice où très tôt ses parents l'ont initiée à venir en aide aux personnes en difficulté. Diplômée d'une école de commerce, elle a toujours aimé voyager et organiser des événements.
Un rayon de soleil
Ce que j'aime particulièrement chez Martine c'est sa positive attitude. C'est une vrai optimiste, heureuse de partager son enthousiasme. Elle croit beaucoup aux cercles des énergies. Son adage  » Be happy with yourself ». C'est de cette personnalité qu'elle a créée « 
Child Care Monaco
« .
Un tour du monde humanitaire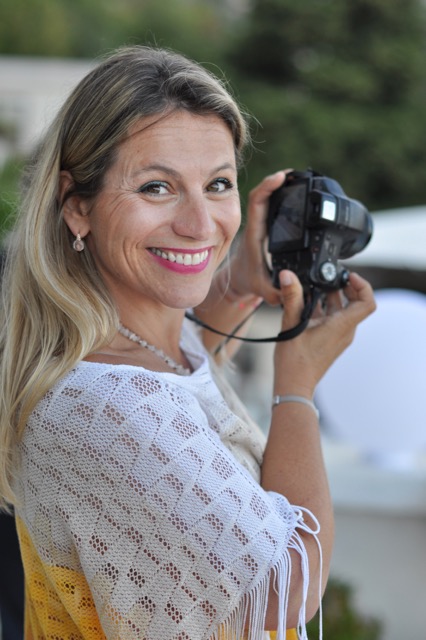 En effet, lorsqu'elle décide de préparer son tour du monde en famille, elle souhaite remercier ' mère Terre' comme elle dit et s'est questionnée sur le 'comment aider' durant son passage sur les différents territoires. Cette orientation humanitaire l'a amenée à découvrir de nombreuses causes, de l'Egypte au Costa Rica en passant par la Chine et l'Inde. C'est en Inde justement, un pays qu'elle avait déjà visité quelques années plus tôt et qui lui avait déjà laissé ce gout amer de la détresse dans les rues et d'images chocs qui brutalisent les consciences. Le plus accablant pour elle avait été les enfants et leurs conditions de vie insupportables voire inhumaines. C'est peut être ça qui est à l'origine de son « coup de foudre humanitaire avec Ramesh, Magistrat de la Police, qui recueille les enfants trouvés dans les rues. Lors de leur rencontre, ils avaient longuement échangé sur la situation des enfants et notamment la condition des petites filles pour qui l'école était inaccessible en raison de l'insécurité.
La naissance de Child Care Monaco
Après son tour du monde, Martine décida de retourner en Inde voir Ramesh et ensemble ils eurent le projet de la construction d'une école pour filles dans un petit village retiré. Child Care Monaco naquit. 6 ans déjà. L'Ecole a été créée et plus de 90 fillettes viennent y apprendre à lire et à écrire chaque année. Tout ceci a pu être mise en oeuvre grâce aux dons que l'association a reçu du public monégasque. Il a lui aussi voulu aider à travers Martine qui se rend tous les ans un mois sur place pour encore et encore partager son énergie. « Monaco est très motivé » !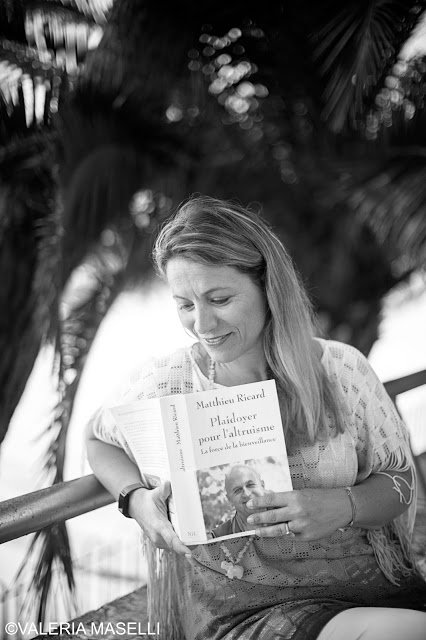 Ladies Rallye Vintage Cars
D'ailleurs Martine, pour récolter des dons a eu l'idée géniale d'organiser depuis 4 ans, un Ladies rallye de voitures anciennes. Un BIG succès ! Un rallye 100 % Girly Girl ! J'ai d'ailleurs participé à la troisième édition et j'en ai encore en tête d'excellents moments ! Pour revivre mon expérience « un rallye façon monégasque », c'est
ICI.
Et cette année encore, le 17 septembre prochain, rendez-vous pour la 4ème Edition au Café de Paris ! J'ai le plaisir de vous dévoiler en avant première le thème du 'dress code' de cette prochaine édition :
les « 3 V » : VINTAGE, VICHY, VIBES
!!! Elle nous promet de nombreuses surprises ! Attention, les places sont limitées les amis ! Inscriptions avant le 30 juin ! Pour plus d'information sur le rallye c'est
ICI
En attendant septembre, Martine a eu la gentillesse de nous révéler ses bonnes adresses de la Principauté !
Où
vas-tu quand tu dois organiser à Monaco un déjeuner professionnel? Where do you go when you have to organize a business lunch?
Martine : J'aime
aller au Castelroc. Que c'est tranquille la bas!!!. La cuisine méditerranéenne
avec un service raffiné me plait énormément. Marc s'assure avec son oeil
d'expert que rien ne manque. L'emplacement face au Palais est d'un
privilège dont il ne faut pas se priver. Tous les ingrédients sont
rassemblés pour me faire passer un excellent moment. I like to go to the Castelroc. It's quiet there. I like very much its Mediterranean cuisine and its refined service. Marc with his expert's eye makes sure that nothing is missing. The location front of the Palace is a privilege that must not be missed. All the ingredients are gathered to make me spend an excellent time.
Quelle
est la décor d'hôtel que tu préfères ? Which 's your favorite interior design hotel ?
Martine : j'hésite entre entre moderne et
traditionnel.. Entre Monte Carlo Bay et Hermitage. C'est selon mon humeur.
Des fois, j'aime l'espace et j'ai besoin de m'aérer donc je vais au Monte Carlo
Bay. Et quand j'ai besoin de confinement j'aime boire un thé dans le petit salon
de thé après le hall d'entrée à l'Hermitage. J'y admire les portes, les poignée
de portes, les peintures, les ornements, les statues….et je me dis
« j'enfilerai bien ma robe de marquise » ;). I hesitate between modern and traditional… between Monte-Carlo Bay Hotel and Hermitage Hotel. it depends on my mood : sometimes I like the space and I need to get air so I go to the Monte Carlo Bay Hotel. When I need cosy time, I like to drink tea in the small tea room in Hermitage Hotel. There I admire the doors, the door's handles, the paintings, the ornaments, the statues… and I says to myself 'I should rather put my dress of marquise on. »
Où
vas tu prendre un verre avec une amie? Where are you going to have a drink with a friend ?
Martine : j'adore aller chez Princess tea
boire un thé et déguster un opera !! cela me rappel la pâtisserie / salon
de thé qu'avaient mes Parents. Les décorations confectionnés
méticuleusement avec gouts et raffinements je replonge un moment dans mon
enfance avec les odeurs, les couleurs, le style, l'ambiance, l'atmosphère….I love going to Princess tea drinking tea and enjoying an opera cake !! It reminds me the tea room that my parents had. The decorations are meticulously made with tastes and refinements. I feel in my childhood with the smells, the colors, the atmosphere …
L'endroit
à Monaco où tu te sens comme à la maison? What is the place in Monaco where you feel like at home ?
Martine : je me sens à la maison au Miami
Plage, j'y vais depuis que mes enfants sont petits. J'adore cet endroit où le
serveurs sont hyper gentils, les plats délicieux et l'ambiance douce comme un
parfum d'été. Christophe est très accueillant et à toujours un mot gentil. Cela
fait plaisir. C'est vraiment mon QG si je puis dire. I feel like home at Miami Beach. I go there since my children are young. I love this place where the waiters are super nice, the food delicious and the atmosphere soft as a summer fragrance. Christophe is very welcoming ! I can say that it is my HQ !
La
vue exceptionnelle de Monaco que tu préfères ? What is the Monaco best view you prefer?
Martine : la vue de la tête de chien
est fantastique. cela me donne l'impression que si je saute je vais voler
tranquillement jusqu'à la mer. Peut être qu'à force de voir les parapentes
de l'autre côté de la baie je devrais essayer ! Sinon un autre point de vue que
j'aime bien, et plus près, est la vue de Monaco par les remparts, spécialement
pendant la période de Noel avec les illuminations sur le Port Hercule. The view from 'la tête de chien' is fantastic ! It gives me the impression that if I jump, I will fly quietly up to the sea. Another point of view that I like is the view of Monaco from the ramparts especially during the Christmas time with the illuminations on the Port Hercules.
L'attraction
touristique incontournable selon toi? The must-do touristic place ?
Martine : la plongeuse que je suis va vous
dire le musée Océanographique bien sur !! ces poissons, ses expositions
toutes aussi fascinantes les unes que les autres, l'aquarium féerique
!!, son histoire, ses escaliers, son plancher, ses odeurs, j'aime tout..
le côté sombre me fascine et me fait flipper. Je m'imagine souvent
être la bas en pleine nuit !! histoire de me faire flipper encore plus !! Because I Iike diving, I would say the Oceanographic Museum ! The fish species, the amazing aquarium, the expositions all as fascinating as each other! Its history, its stairs, its planchet, the smell… I like everything. the dark side fascinates me and scares me. I often imagine myself over there in the middle of the night, just to get frighten even more!
Un
endroit pour te relaxer ou te faire chouchouter? What is the place where you like to relax ?
Martine : je suis plutôt bio
j'aime aller au salon Organic and Spa les produits de ce salon de coiffure sont
bio pour certains et 100% naturels pour d'autre. Je ne mets pas n'importe
quoi sur mon visage et sur ma tête !!l As I am rather organic oriented, I like to go to Salon Organic and Spa. The products are organic and 100% natural. I do not put whatever product on my face and my head !
Quand
tu veux manger bio ? When you want to have an organic lunch or organic dinner ?
Martine : je soutiens Jessica et ses produits bio sur le marché
!!! je cuisine beaucoup. Par contre si je dois manger sur place je choisis le
Corner. J'aime le quartier la bas, j'aime aussi manger au marché car on a
le choix et on partage les tables. I support Jessica (from Terre de Monaco) and her organic product s at the Condamine Market ! I cook a lot. My favorite organic place is the Corner. I like the area ! I also like to have lunch at the Condamine market with its many restaurants and because we share tables.
Un
événement que tu ne raterais pour rien au monde ? An event that you would not miss for anything at all ?
Martine : le Grand Prix !! L'ambiance, la foule, la fête, tout ce monde qui circule dans toutes
les rues de Monaco. Ambiance incomparable ! Des gens viennent des 4 coins du
monde avec qui tu échanges sur tout et n'importe quoi. L'ambiance, le joie de
vivre. J'apprécie par dessous tout le fait que les voitures fassent
moins de bruit qu'avant ! C'est amusant beaucoup de mes amis fuient le
grand prix et moi je reste ! The Grand Prix !! The atmosphere, the crowd, the parties, … What an atmosphere! People come from all over the world, with whom you can exchange on everything. I appreciate the fact that cars makes less noise than before. it's funny : many of my friends leave Monaco and I love staying there !
Une
petite escapade hors de la ville ? A break out of the city ?
Martine : j'aime aller avec mon amie Caroline en Italy
faire du shopping à Vintimille et profiter de déguster un poisson dans
notre restaurant préféré La Caravella. C'est un rituel que nous avons depuis
une 15aine d'années et que j'ai l'impression de vivre différemment à chaque
fois..je ne m'en lasse pas. Les commerçants sont tellement sympas avec nous et
ont toujours une petite attention c'est plaisant ! I love going with my friend Caroline in Vintimiglia to do shopping ! There, I enjoy the fish in the Caravelle restaurant. We have been doing it for about 15 years and every time it looks different. I do not get tired of it. The shopkeepers are so friendly with us and have always a little attention !
********************English version*********************
I found Martine on the terrace of Starbucks, a discreet place with a breathtaking sea view. We met almost a year ago as part of her association, « Child Car Monaco », and already her personality had impressed me very much.
Martine, sign of Fire and Sun, has been living in Monaco for more than twenty years. She grew up in Nice where, very early, her parents initiated her to help people in difficulty. As a Business school's graduate, she always enjoyed traveling and organizing events.
A ray of sunshine
What I particularly like about Martine is her positive attitude. She's a true optimist, believes in circles of Energies and happy to share her enthusiasm. . Her adage is « Be happy with yourself ». She created « Child Care Monaco » drawing from that personality.
A Humanitarian World Tour
Indeed, when she decides to prepare her world tour with her family, she wants to thanks « Mother Earth » as she says and questions herself with « how can I help » during her crossing through different territories. This humanitarian orientation has led her to discover many causes, from Egypt to Costa Rica through China and India. It was in India, a country she had visited few years earlier and had already left her the bitter taste of distress in the streets and shocking images that brutalize consciousness. The most overwhelming for her had been the children and and their unbearable, inhuman living conditions. This may be the reason for her humanitarian thunderbolt with Ramesh, a Police Magistrate, who takes care of the children found in the streets. When they first met, they discussed at length about the situation of children, notably the condition of girls for whom school was inaccessible due to insecurity.
The birth of Child Care Monaco
After her World Tour, Martine decided to return to India to see Ramesh. They had together the project of building a school for girls in a small isolated village. Child Care Monaco was born. 6 years already. The school was created and more than 90 girls come to learn reading and writing each year. All this could be implemented thanks to the donations the association received from the Monaco people. They also wanted to help through Martine who spend a month every year on the spot to again and again share her energy. « Monaco is very motivated ».
Ladies Rallye Vintage Cars
To collect donations, Martine had the brilliant idea to organize for the last 4 years a Classic Cars Ladies Rally. A BIG success! A 100% Girly Girl Rally! I took part of the third edition and I still have in mind excellent moments. To relive my « Monegasque's style rally » experience, it is HERE.
This year again, on September 17th, go for the 4th Edition at the Café de Paris! I have the pleasure to reveal the dress code theme of this next Edition, the 3 Vs: VINTAGE, VICHY, VIBES!!! It promises many surprises! Ladies, tickets are limited! Registration is before June 30th! For more information on the Rally it is HERE.
Waiting September, Martine was kind enough to reveal her good addresses in the Principality.