Nous y voici ! Le 4 mai ! Nous l'attendions ! 49 jours confinés à rester en famille, faire l'école à la maison, les week end à la maison, le sport à la maison, la cuisine à la maison…tout faire à la maison. Aujourd'hui, c'est  la liberté sous conditions pour ne pas attraper le virus : les masques font à présent partie de notre vie. Au tout début du confinement, on parlait de pénurie…ce qui a donné l'impulsion à certains d'en fabriquer localement. Je pense ainsi à la Fondation Princesse Charlène, aux entreprises Bettina et Banana Moon  qui confectionnent des masques « made in Monaco ».  Il devient obligatoire d'en avoir et de les porter dans les lieux fermés. C'est un des gestes barrières. Nous, résidents nous en avons tous reçu au moins un chacun dans notre boite aux lettres. J'ai eu envie de faire le tour de la Principauté et de vous faire part de mes adresses pour en dégoter un original  en tissu et made in Monaco. On peut toujours en trouver des classiques blancs dans les supermarchés et pharmacies. Certaines pharmacies comme celle de la rue Plati, la Pharmacie Marsan en proposent avec de jolis imprimés pour les enfants. Voici les adresses que j'ai préférées !
LA BOUTIQUE DU ROCHER
The masks are made of cotton, in soft colors, like the house. 5 EUROS the mask donated to the Princess Grace Foundation.
1, rue de la Madone-+377.93.30.91.17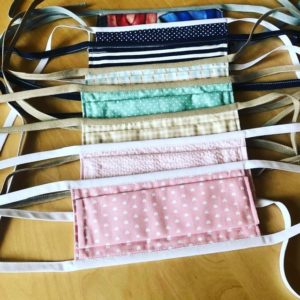 PIERRE
True to its enhancement of pretty pieces, the masks are all different, with varied and cheerful patterns. This is an opportunity to discover the new nuggets selected! 10 euros per mask which will be donated to the Parish of Saint Devote.
41, rue Grimaldi-+377. 99.99.61.89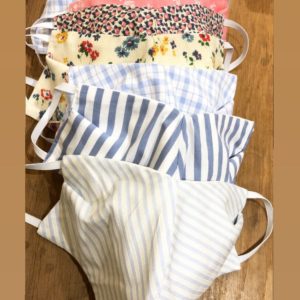 AMC HAUTE COUTURE
It is an initiative of the designer Angela Petrulli AMC Haute Couture who manufactures them in her two workshops. She wanted to match the masks to the outfits she makes … liberty masks for ladies and checkered masks for men. A mask for each outfit … combine business with pleasure. 15 euros per mask. Place an order at info@amchantecouture.com or at 06.78.63.91.91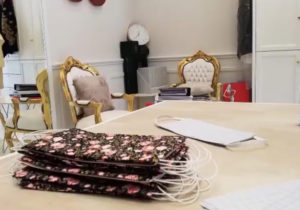 CLUB DES SUPPORTERS
it made me laugh a lot when I saw them and I find them great! In the colors of Monaco! Two models: Daghe Monaco and 1924. 6 euros per mask including 1 euro will be donated to the association game box. Order by mail – Stade Louis II