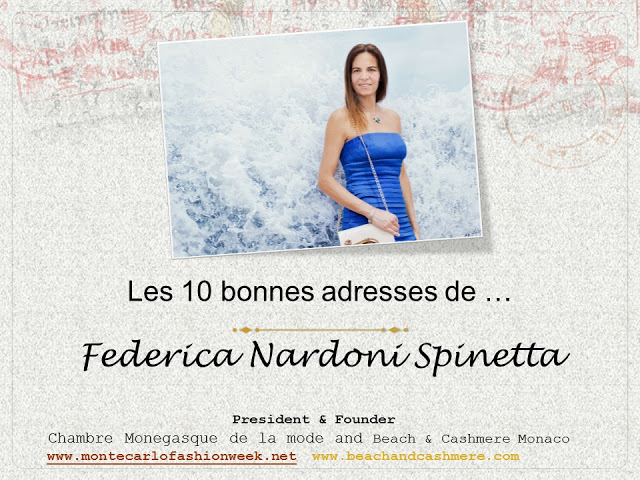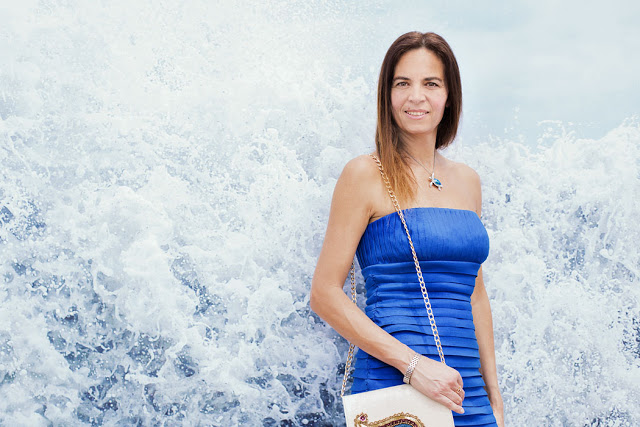 Copyright Beatriz Moreno
I met Federica when I discovered Monte-Carlo Fashion Week last year (a mode, la mode, la mode,° and I immediately wanted to interview her.
You must know that Federica is a very very active woman! It was therefore necessary to find the day and the hour to meet and it is within the place we both like that we got to know each other better: the Yacht Club. I was conquered by her little Italian accent and her pretty smile.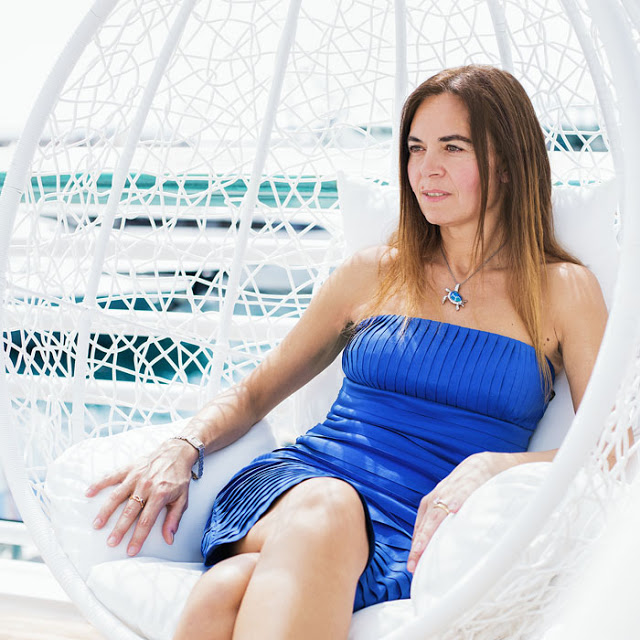 Copyright Beatriz Moreno
Originally from Alassio, a small village in Liguria, she was drawn to fashion and drawing at a very young age, and practiced all her childhood. It is nevertheless towards scientific studies that she turned to obtain a diploma of commerce option Finance to the famous Bocconi of Milan. Her professional debut was then the audit in the textile and oil sectors. It is by meeting her husband that she puts down her suitcases in the Principality where she will soon get involved in economic life (Monaco Economic Board, Association of Women Head of Enterprises of Monaco, Association of Parents of Pupils).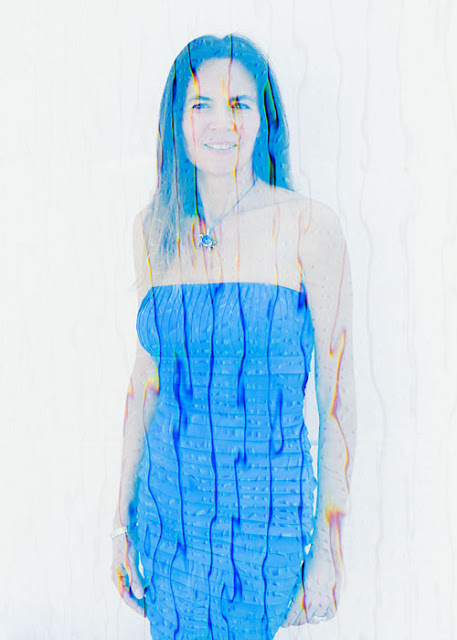 Copyright beatriz Moreno
Her first loves call her back and she created the brand Beach and Cashmere Monaco, and her first collection in 2005. She then notices that there is no House of Fashion in Monaco and it is by meeting with Elizabeth Wessel and Banana Moon that will be born in 2009 the first Monaco professional fashion union that groups fashion brands with Monegasque DNA.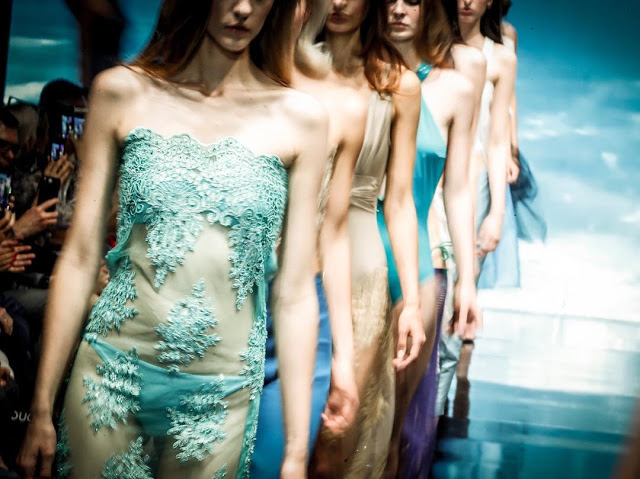 She becomes the President and her goal is twofold: to make known the Principality's fashion brands and make Monaco a professional fashion platform.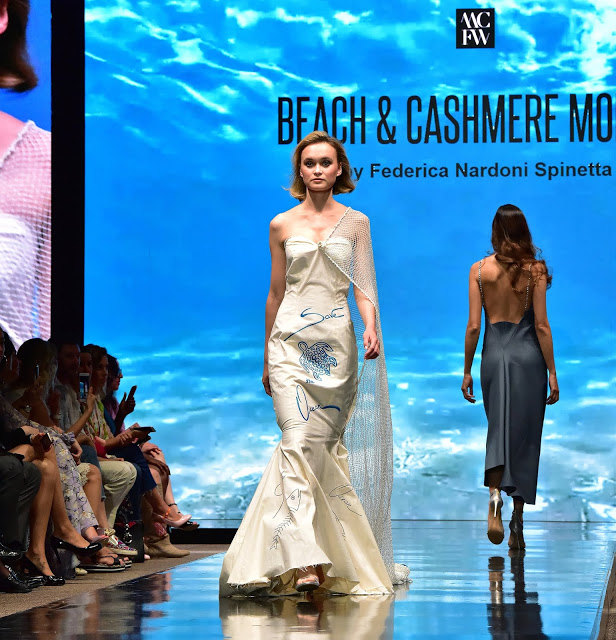 This is how the first edition of Monte-Carlo Fashion Week is created in 2013. Every year, talented, young, international, innovative and eco-responsible brands and designers are showcased. Conferences on fashion are organized in round table around professionals, fashion awards honor various personalities for their commitment and contribution to the world of fashion. An effervescence in the Principality!
Congratulations Federica for all these advances!
She is delighted today to share with us her 10 good addresses in the Principality!
Your address Well-being?
FEDRICA:
The Thermes Marins de Monte-Carlo, where you can relax in the sun, swim quietly, go to the gym or receive magnificent treatments; a true journey between technological universe and islands of tranquility!
Your address "yum-yum" to land quietly and eat a drink in the sun?
FEDERICA:
I love to have lunch in the sun at the Café de Paris, emblematic place of the Principality of Monaco, with its mythical terrace on the Place du Casino. I like its spirit brasserie, its different specialties and especially its famous crepes Suzette, which are cooked directly in front of the customer.
Your address for business lunches?
FEDERICA:
The "Club" restaurant of the Monaco Automobile Club, with its elegant and historic atmosphere.
Your shoppi-shopping address?
FEDERICA:
Eleven Monte Carlo, with the most beautiful brands, including mine, Beach and Cashmere Monaco!
Your decorative address?
FEDERICA:
Fashion For Floors with their beautiful carpets and their fashion and modern deco.
Your cultural address that is good for the eyes?
FEDRICA:
The Oceanographic Museum: The Temple of the Sea.
From the ornamentation of the facades to that of the rooms, everything in the architecture of the Museum evokes the marine world; just by entering this historic building we breathe the ocean: through the Aquarium to the largest Mark Dion's Cabinet of Curiosities of the marine world. In addition, the Oceanographic Museum regularly hosts temporary exhibitions, such as Borderline by Philippe Pasqua, or Taba Naba or Oceanomania. A must go!
Your evening address for a drink with friends?
FEDERICA:
The Fairmont Hotel Deck, with its wonderful view that feels like you're on a boat and during the summer you can continue the evening right next door at Nikki Beach.
The hotel decor that you prefer?
FEDERICA:
The Hôtel Hermitage, with its "Belle Epoque" spirit that can be found in the Eiffel hall, or in the various cozy rooms, such as the magnificent Belle Epoque Room.
Where do you love to drink coffee?
FEDERICA:
At Cova! I grew up in Milan where Cova is the most famous pastry shop with its unique historical atmosphere. The opening of Cova in Monaco has made people happy!
A little getaway out of town?
FEDERICA:
In St. Tropez for its glamor and nightlife or Alassio, my hometown, to relax and enjoy the beautiful sandy beach.