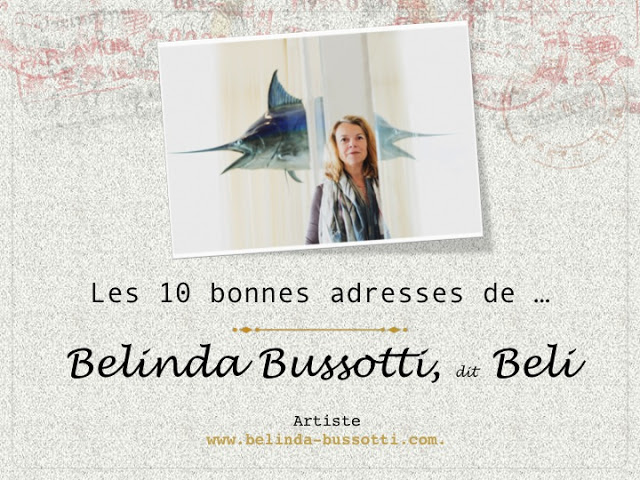 I met Belinda Bussotti, Beli from her artist's name, during an improvisation workshop at the Muses Theater and I immediately thought about interviewing her to learn more about her artist's career.
Beli is a child of the country! Born in Monaco, she grew up there and studied until Bac. A few years in Genoa for her studies in electronics engineering. Despite her love for drawings, she let herself be harpooned by its scientific side! It is love that has made her travel to the United States several times and she took this opportunity to take courses at the Corcoran Art School in Washington DC and the Glassel Art School in Houston.
For Beli, "when a door closes, others open". Painting has always been part of her life but in parallel to her professional activities. It is only about fifteen years ago, that she decided to devote 100% of her time there. To her great happiness!
She made for a long time oil painting and charcoal and then experimented with acrylic collage by mixing it with art photos.
It is only when she views the film "the end of the line" about the fishing and shark killing that she wants to fight this scourge. "What can we do to save the oceans"? She then undertakes three large paintings expressing the carnage made to the sharks.
In 2012 she meets Mateo Mornar who introduces her to sculpture in his workshop in Monaco. The sculpture takes the ascendancy and becomes a passion. A large part is dedicated to sharks. The shark fin with the notch becomes a symbol. With this one – a bronze fin – she confirms her status as an international artist and exhibits in Moscow (2015), Beijing (2016), Miami (2017) and Las Vegas (2018).
Beli, always in the spirit of raising awareness, has created a series of bracelets representing the shark flan and pendants representing seahorses, also subject to excessive fishing in Asia.
When asked what will be her next cause to defend, she responds without hesitation "the plastics in the oceans …"
Today, she is delighted to reveal her addresses in the Principality.
To know more about Beli's works, it's HERE
Your Well-being address? BELI :  The 5 MONDES SPA of MOnte-Carlo Bay: a fabulous place. A unique moment of relaxation that starts with a swim in the pool or lagoon, followed by the hamman and finally the massage or care. A unique experience to refocus.
Your "foodie" address to relax with the sun ? BELI : le MIAMI PLAGE au Larvotto. The Miami beach at Larvotto
Your shopping address? BELI :  LA MOME DE MONAC found in the Monte-Carlo Fashion boutique, rue Grimaldi. I really like their unique pieces, original and cool to wear. It is right next to the jewelery Fissore, a micro shop full of treasures and energy that I particularly like for its gems.
Your organic food address? BELI : Solis Bio for food shopping, the shop Bio Avenue Saint Laurent for all the essential oils -fabulous- and the restaurant Equivta for its vegan and organic side.
Your culture address which is good for the eyes? BELI : The Ballets de Monte Carlo, Grimaldi forum expos and the oceanographic museum.
Your address to have a coffee? BELI : LA NOTE BLEUE, next to the sea with the newspaper, after footing or a swim…
Your "chic but not too much" foodie address ? BELI : THE CASTELROC, the setting is splendid facing the Palace and the traditional cuisine is delicious; moreover lately some of my works were exhibited there. 

Your address for the Monaco best view ? BELI : From the sea on my boat or from the Palace place with the view on both harbors
Your address to have a drink with friends? BELI : The FLASHMAN, LE JACK or the 3 TAPAS next to my workshop.
Your foodie address where culinary art is " sublime" ? BELI : Chez DUCASSE… Chez Ducasse